G
aleria Aniela
the world's local fine art gallery
Founded in 1994, Galeria Aniela won the trust of some of the most important Australian artists from the post WWII until today. Coup the front page Sydney Morning Herald, Best of BOYD Australian National News ABC TV, John Perceval Australian National News ABC TV, BOYD family Sunday Afternoon ABC TV, Charles Blackman SBS TV, built a reputation in Australia and the wide World. We offer an opportunity to purchase high-quality fine art of impeccable provenance from artists such as Arthur Boyd, Jamie Boyd, Lenore Boyd, Charles Blackman, John Perceval, John Olsen, Garry Shead & more. Whether you are a first time buyer, a collector or an investor our people focused approach ensures an enjoyable and rewarding experience, shipping worldwide. m BLOG m buy-Sell m invest m Resources m Videos m
testimonials
Vicki and I have been delighted with Aniela's approach to matching quality artwork to that of our preferences.
Aniela is very professional and considerate in her dealings. Her ability to source art directly from ensuing artist's families as true originals has added appeal to us.
Regards, Brett 2018
Nearly twenty years ago I first visited Aniela's gallery at Mt Scanzi Rd, Kangaroo Valley. Set in a large garden with sculpture the gallery is always an interesting place to visit with constant changes and quality works on display.
I have made a number of purchases of works from Galeria Aniela over the years and have always been impressed with Aniela's knowledge and advice when looking for another item.
Richard 2018
Buying art is never an easy task - you wonder about provenance, quality, damage etc - but with Aniela it's such an easy, risk-free and pleasant experience. I've bought many pieces from Aniela over the years Arthur Boyd, David Boyd, Jamie Boyd, John Perceval, Charles Blackman etc just via the internet and emails as I was overseas... only ever seeing internet pictures. Such is my trust in Aniela. She has a well-earned reputation for being a very honest and helpful art dealer. Aniela is ALWAYS my first port-of-call when I am looking for an Australian piece and I strongly recommend that strategy to you.
Tejinder Sekhon
We found the art purchasing experience at Gallery Aniela to be most pleasurable and informative. So many beautiful pieces on display. Our recent visit to the
Jamie Boyd
exposition was fantastic. Meeting and talking with the artist was a wonderful and memorable experience.
Kim and Kelvin Taylor
I have bought five paintings from Galeria Aniela Arthur Boyd, Charles Blackman, Jamie Boyd and Pamela Griffith all beautifully framed and lovely. Good service and always a pleasure to do business with my friend Aniela. I love her website too, which is really informative regarding my favourite artists and just a pleasure to browse through when in a browsey mood.
I think I've just invented another word!!!
Leone Brennan
Just love Galeria Aniela. The gallery has such a range of beautiful paintings and sculptures. It made the trip to Kangaroo Value really worthwhile. I was lucky to purchase several stunning original paintings Arthur Boyd, David Boyd, John Perceval, Charles Blackman.
Thank You! Ulf Egestrand
5 Stars! Galeria Aniela provides a winning combination of top quality art, beautiful surroundings and friendly expertise.

Christine Kelly
My husband and I stumbled across Galeria Aniela and were very impressed by the stunning collection of artwork, but also the lovely Aniela who was so friendly and charming. It was wonderful to learn about the incredibly talented artists and enjoy this beautiful, tranquil setting. What a delight! I can't wait to visit again, and would highly recommend this gallery to anyone visiting the region.
Stela Razzaque
We have worked with Aniela for over 20 years and found her to be honourable and enthusiastic in the arts industry. She has a beautiful gallery near Kangaroo Valley in the Southern Highlands of NSW and its worth a visit. Aniela is highly regarded by the Boyd family. Top Qualities: Personable, Expert, High Integrity.
Robyn Berkeley
---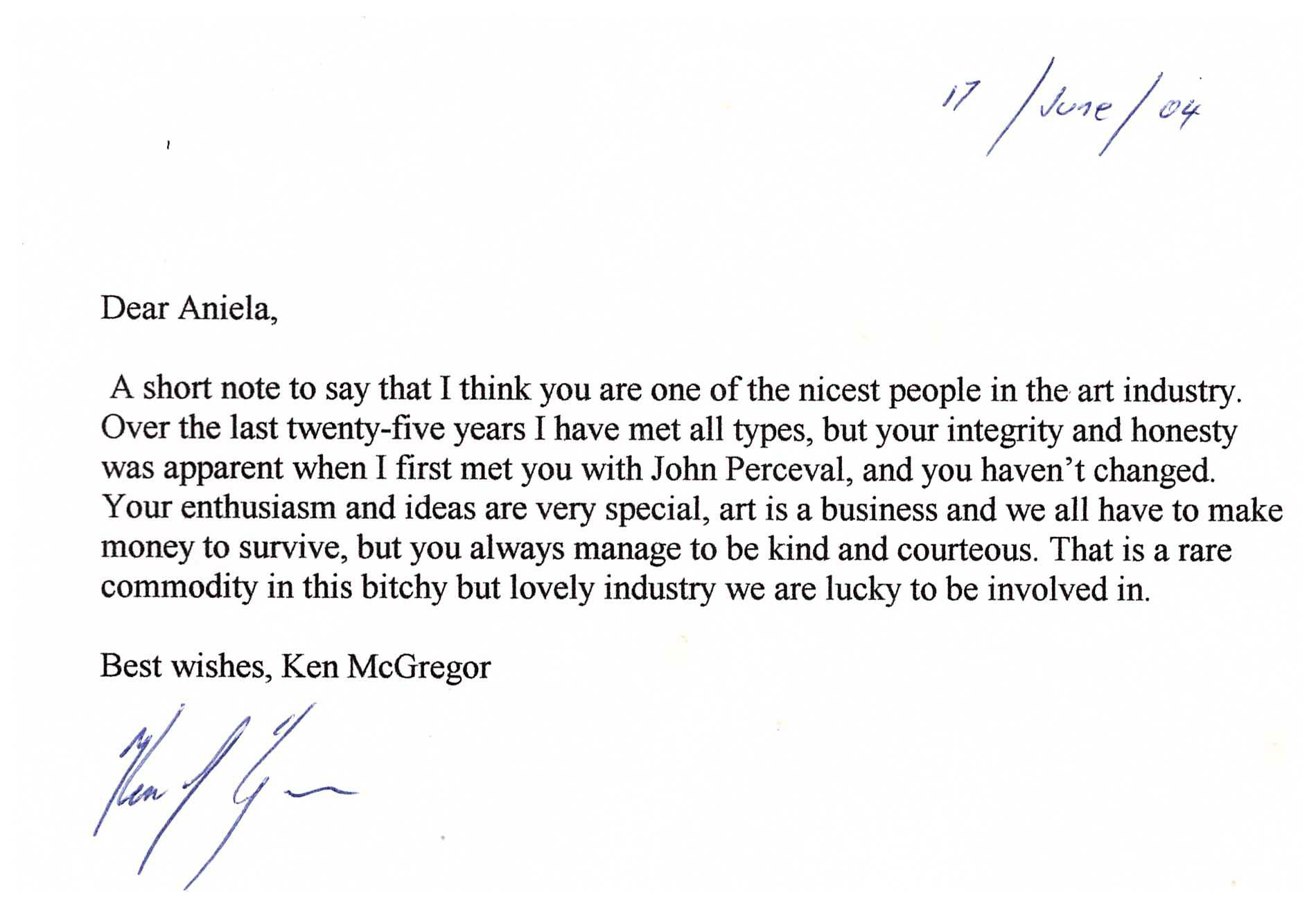 ---
Hon. Bob Hawke,
the
former Prime Minister of Australia
VIDEO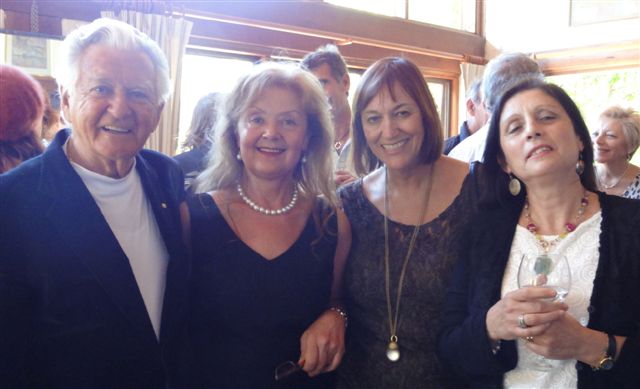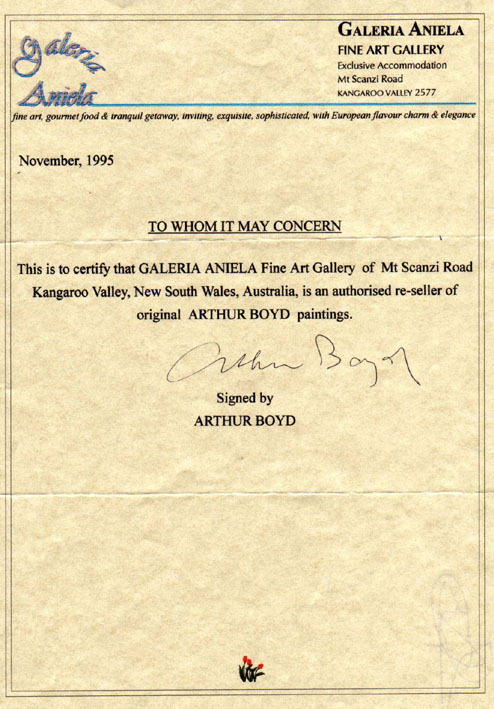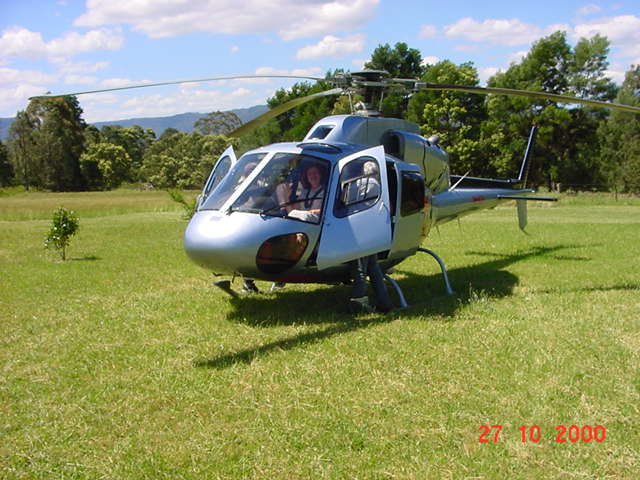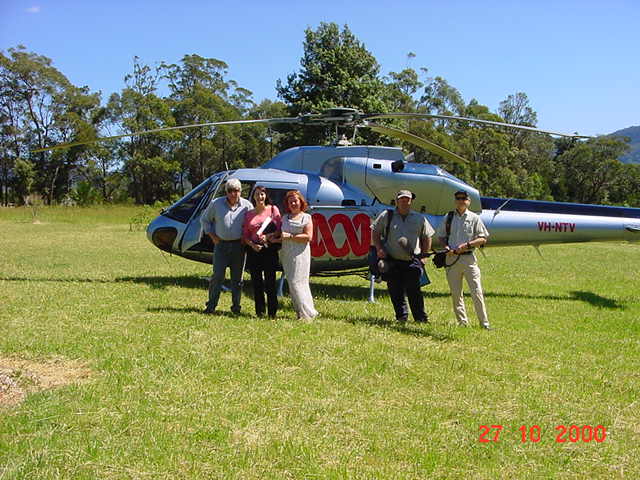 An opportunity to buy original high-quality art of impeccable provenance.
Shipping Worldwide or Pick Up from Galeria Aniela.
Galeria Aniela handles
the primary
art market
when artworks come to the market for the first time at gallery or
exhibition
.
We sell
artworks on behalf of the
artists
. We
immediately
pay
artists
for the artworks we sell,
helping
artists
to make a living with their creations
.
Galeria Aniela aim to be a place of experience and inspiration, committed to significant dynamic artists such as Charles Blackman, Arthur Boyd, Jamie Boyd, John Perceval, John Olsen, Robin Holliday, Brett Whiteley, Garry Shead, Deborah Halpern, Nyurapayia Nampitjinpa aka Mrs. Bennett, Lily Kelly Napangardi, Ningura Napurrula, Gloria Petyarre, Nancy Nunguarrayi and more.
We recognize the importance of the buyer confidence in purchasing genuine works of art. Combining the knowledge of fine art and financial expertise in the World Art Market and a wide network of resources, we offer an opportunity to purchase original museum-quality artworks of impeccable provenance. Whether you are a first time buyer, an enthusiastic collector or an astute investor, our people focused approach ensures an enjoyable and rewarding experience.
We meet the terms of prompt professional communication by internet and telephone. Shipping worldwide usually dispatched within 24 hours, delivery in 3-5 business days or Pick Up from Galeria Aniela.