Education: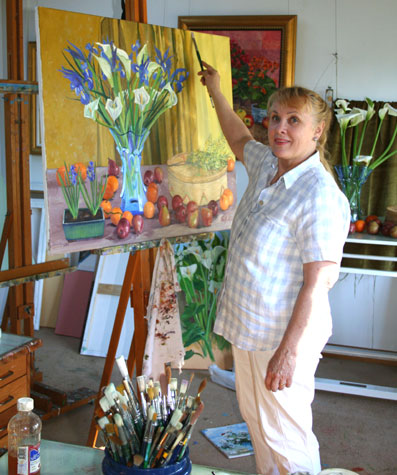 National Art School, East Sydney Technical College, 1961-1964; Art IV Prize, Sydney Teachers College 1965; Teachers Certificate, 1966; Bachelor of Art Education, Alexander Mackie College of Advanced Education, 1983; Evening studies at National art school in life drawing and life painting and etching. Fellow of The Royal Society of New South Wales, 2017; Associate of Royal Art Society; Member of the Marine Artists Society, 2017; Member of Australian Watercolour Institute; Member of the Print Council of Australia.
Activities:
Taught in Secondary schools, Technical Colleges, Colleges of Advanced Education, numerous community art schools; Employed as Historian of Department of Main and author of their history book, 'The Roadmakers'. Author of 'Australia, an artist's journey through the landscape' Master Printer; Artist; Designer; Advisory editor of Australian Artist Magazine; and Public Speaker. Established Griffith Studio and Graphic Workshop, 1976. Produced over 400 editions of my own limited edition prints, and over 300 editions of more than 20 other prominent Australian artists; Supporter of charities through gifts of work to raise money.
Overseas studies:
Extensive travel Internationally from 1971. Experience in Europe, England, Israel, USA and Asia. Invitation to Maritime Museum Paris, 1987; Guest at the Art Centre Ubud, Indonesia, 1993; Thailand 1995; Turkey 1995; Official tour to Hong Kong, 1995 – Exhibition funded by International Cultural Relations Branch of the Department of Foreign Affairs and Trade and Arts Council; Project in Borneo on the environment, 1996. Project the on Galapagos Islands and Ecuador, 2005. Visitation to a number of Islands in the Pacific for an ongoing project. Study of Lighthouses in Ireland. Frequent trips to the United States.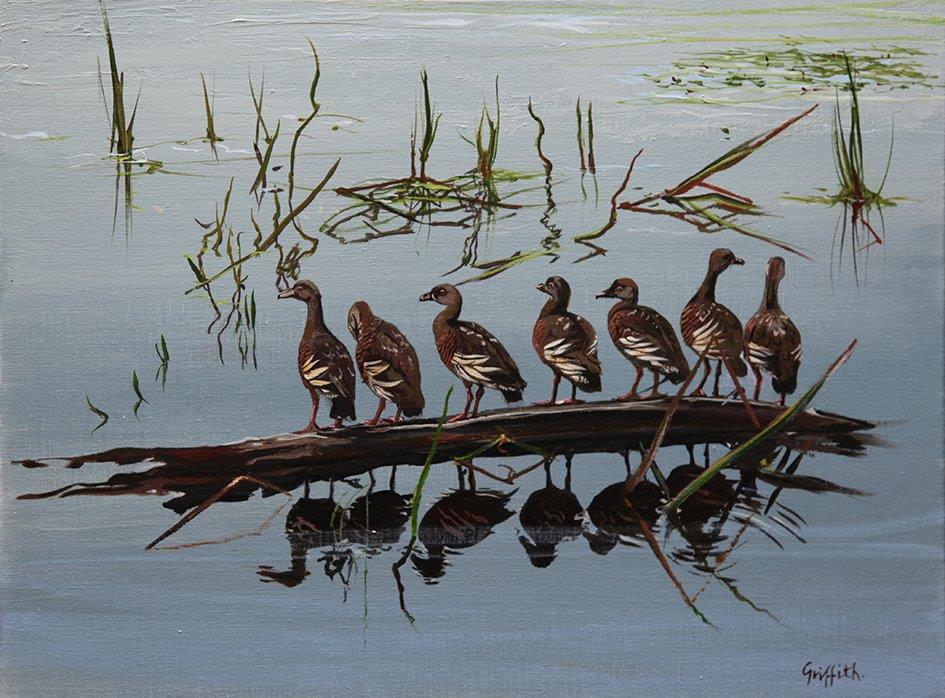 Artist: Pamela Griffith
Title: Plumed Whistling Ducks
Medium: Oil on canvas
Size: 46 cm x 51 cm
Price: $3,500
Buy Now
Enquire
Exhibitions:
Exhibited at Barry Stern Galleries, Sydney, for many years with numerous one-woman shows. Up to 3 exhibitions held each year at other galleries in Sydney, regional NSW and interstate. Invited to exhibit in many group shows. Over the past 40 years exhibited at Art Equity, Sydney; Galeria Aniela, Kangaroo Valley; Forest Gallery, South Durras; Boyd Fine Art Gallery, Narellan; Lake Russell Gallery, Coffs Harbour; Hang Ups, Brisbane, Solander Gallery, Canberra, Beaver Gallery, Canberra; Kensington Gallery, Adelaide; Berrima Galleries, Berrima, Cooks Hill Gallery, Newcastle; PG Printmaker Gallery, Fitzroy; Editions Gallery, South Melbourne; Something Special Gallery, Bexley; Q Gallery, Birkenhead; Bundaberg Regional Gallery, Bundaberg; Hazelhurst Regional Gallery and Art Centre, Gymea; Art Arena Gallery, Wollongong; Art Co-ordinates, Subiaco; Art Incorporate, Sydney; Artist's Deli, Bowral; Blackfriars Gallery, Glebe; Breewood Gallery, Katoomba; Sassafras Gallery, Kurrajong; Bridge Street Gallery, Sydney; Bungendore Woodworks Gallery, Bungendore; Gallery 460, Gosford; Design Gallery, Terrigal, Perc Tucker Regional Gallery, Townsville, Francis Keevil Gallery, Double Bay; Qdos Gallery, Geelong; Tynte Gallery, Adelaide. Canberra Museum Canberra, Grenfell Regional Gallery, Grenfell; Fairfield Regional Gallery, Fairfield; Perc Tucker Regional Gallery, Townsville, Blacktown Hospital art Program exhibition.
Project Examples:
Family law Court, Parramatta. In 1990, commissioned to produce 12 watercolour images to be hung in the public spaces of the new building. The works were required to be colourful, cheerful, non-controversial in subject matter, or to display or imply any anger or aggression. They were required to have a calming effect. I produced 12 scenes of colonial Parramatta and environs, depicting everyday life in those times.
Over many years I have produced images in paint and print of the Great Barrier Reef. Particular emphasis has been placed on the wildlife of Northern Queenland and the implied threat of climate change and pollution to the underwater life of the region. Reef images were used on banners and street signs produced by Perc Tucker Regional Gallery, Townsville, to advertise their "Reef" exhibition in 2016.
Memorare of the Snow. In 2007 I was commissioned to provide a history painting for St Gregory's College, Campbelltown. It was to be an inspiration to the boys in its content and provide an art statement to reinforce the importance of culture in their lives. The theme related to the founder of the Marist Brothers, Marcellin Champagnat. The 140 cm x 190 cm work, anoil on linen painting, now hangs in the school's Assembly Hall. The headmaster also commissioned the production of a limited edition etching that raised money for the school. I also designed the school's ceremonial banners.
Four history paintings are now part of the collection of the Perc Tucker Regional Gallery, Townsville. They relate to the first positive contact between the original inhabitants of the area and European settlers. James Morrill, a young Englishman, survived a shipwreck on the reef in 1842, reached the shore, and was taken in and sheltered by the local aboriginal people. He lived among them for the next seventeen years, finally re-joining the European community. It is a story of the meeting of two cultures, and the works provide a narrative in the course of reconciliation.
Feather Map Project. In 2016 I was approached by the University of New South Wales (UNSW) to prepare imagery that would help them to spread the message of the Feather Map project which they were undertaking in conjunction with the Australian Nuclear Science and Technology Organisation (ANSTO). They required an informative poster, depicting a number of threatened bird species. The images needed to be sufficiently accurate to enable identification and the work was translated into a very effective poster that has been widely distributed.
Wetland Project. My work over the past couple of years has had an emphasis on wetland preservation. I have depicted in oils and acrylics, the birds and animals that depend on healthy wetlands for survival. Over 50 images were exhibited in a very well received one-woman show called "Teeming with Life, The Wongaloo Project" at the Perc Tucker Gallery Townsville. Bungendore Woodworks Gallery showed this work in an exhibition called "Teeming with Life, care of wetlands". Many of these images are now exhibited in the Blacktown Hospital as part of the combined hospital art program.
Other works:
Design of the Bicentennial toile and Macquarie toile in 2008. Royalties emanating from the printing and sale of these fabrics were directed to the Historical Society.

Design of the Mary MacKillop toile, produced for the Sisters of St Joseph to raise funds to assist in the beatification of Sister Mary MacKillop.

Design of tissue boxes for Kimberly Clark. The novel pedestal incorporated in the designs was a world first and are still employed across the Kimberly Clark range.

Design of the Waratah(s) depicted on the NSW driver's licence. (a cooperative project between the Roads and Traffic Authority and Olivetti, employing hologram technology for the first time in the world for such an application).

Design of the sculptural embroidery "Resonances of Inspiration" for Penrith City Council, featured in the Joan Sutherland Performing Arts Centre.

Design of an Australian Design Award winning letterbox for Morris Productions.

Commission from Department of Prime Minister and Cabinet to provide one of three limited edition prints for a package presented to the 21 Heads of State attending the 2007 APEC meeting in Sydney.

Mural at PLC, Concord, in collaboration with students.

Portraits of prominent Australians for many private and public collections.
Artist Statement
Whilst I have always been a versatile artist producing portraits, still life paintings and landscapes in various mediums that include oil, water colour and etchings I have always been very preoccupied with travel and landscape. When researching my book " Australia, an artist's journey through the landscape" I became aware of how few iconic images Australians have to celebrate our nation as we have only been in this place a short time. I live near the Royal National Park which is the second oldest National park in the world, so I have generated some landscapes from this area to add to my impressions of Australia. Since colonial times Sydney-siders have toured the park and it was a favourite spot to take a "car for a spin" in the early days of the automobile. The old boat-shed at Audley Weir is where so many Australians met and had picnics so I felt obliged to paint it in a representational manner befitting its history. I shall always be looking at ways of expressing my love for Australia. I like to take a broad sweep in my paintings then examine the subject thoroughly in drawing and etchings.
Many prestigious public, corporate and private collections including:
The National Gallery of Australia
National Library of Australia
Parliament House of NSW
Parliament House of Australia
Powerhouse Museum
Mitchell Library, Sydney
State Library of NSW
Office of the NSW Government Architect
Art Bank, Commonwealth of Australia
Joan Sutherland Performing Arts Centre
Maritime Museum, Paris, France
Laperouse Museum, La Perouse, NSW
Wollongong City Gallery
Bathurst Regional Gallery
Dubbo Regional Gallery
Tamworth Regional Gallery
Bundaberg Regional Gallery
Tweed River Regional Gallery
Wagga Wagga Regional Gallery
Perc Tucker Regional Gallery, Townsville, Qld.
Family Law Courts, Sydney
Family Law Courts, Parramatta
University of New South Wales
University of Sydney
Charles Sturt University
Westmead Hospital
Nepean Hospital
Austin Hospital
Comalco Limited
Hagemeyer (Australasia) B.V.
AMP
St George Bank
IBM Australia Limited
The Vatican, Rome, Italy
Metropolitan Museum of Art, New York, USA
Prime Minister's Palace, Beijing, China
Waverley Cemetery
Numerous Australian Embassies
Mary McKillop Museum, North Sydney, NSW
St Gregory's college, Campbelltown, NSW
St Ignatious College, Riverview, NSW
St Joseph's College, Hunters Hill, NSW
Catholic Diocese of Parramatta, NSW
Eton Collection, London
The National Trust of Australia, (New South Wales)
1. Woodcut edition for Friends of the Earth, 1977. 'Save the Whale.'
2. Etching edition for the NSW Department of Public Works, 1981. 'The Barracks Under Restoration.'
3. The completion of a suite of etchings on the buildings of Francis Greenway in the times of Governor Macquarie for the Premier, Mr N. Wran.
4. Portfolio of three etching editions for Dr. Michel Lefebvre, 1982. 'Shells'
5. Etching edition for Syrinx Research Pty. Ltd., 1982. 'Syrinx and Pan.'
6. Etching edition for Stadia Graphics Gallery, 1982. 'Ulysses Butterfly on Hibbertia Scandens.'
7. Etching edition for Braybon Ward, 1982. 'Grass Trees and Eagles in Flight.'
8. Etching edition for the Parents and Friends of Saint Ignatius College, 1984. 'Saint Ignatius College, Riverview.'
9. Two Etching editions for Bridge Street Gallery, 1985. 'Daffodils', 'Flannel Flowers and Zebra Finch.'
10. Etching edition for Cooks Hill Gallery, 1985.'Nobby's Beach.'
11. Etching edition for Lennox Gallery, 1985. 'Balmoral Beach.'
12. Etching edition for Letraset Bainbridge, 1986. 'The Waterhole.'
13. Etching edition for Print Council of Australia,'100 x 100 Project,' 1987. 'A New Life.'
14. Etching edition for Comalco Ltd, 1987. 'The Blue Mountains, NSW.'
15. Etching edition for Qantas Ltd., 1988 'Australia's First Party.'
16. Three etching editions, for the Laperouse Museum, Sydney, 1988. 'Monument to French Navigators', 'Botany Bay, 1788', 'Laperouse Museum'.
17. Two decorative commemorative fabrics, for Ascraft Fabrics Pty. Ltd., under patronage of The Royal Australian Historical Society, 1988. 'The Bicentennial Toile', and 'The Macquarie Toile.'
18. Etching edition for Painters Gallery, 1988. 'Darling Harbour.'
19. Watercolour for Lands Department, NSW Government, 1988. "Lands Department".
20. Corporate graphic imagery, for the Joan Sutherland Performing Arts Centre, Penrith, 1988. This includes the logo and a watercolour of the centre that was presented to Dame Joan Sutherland.
21. Oil portrait for St. Joseph's College, Sydney, 1989. 'Dame Joan Sutherland.'
22. Oil painting for The Royal Automobile Club, Sydney, 1990. 'The Royal Automobile Club.'
23. Oil portrait for St. Joseph's College, Sydney, 1991. 'Richard Bonynge.'
24. Oil portrait, for the St. Lawrence Centre, Sydney, 1991. 'Richard Bonynge.'
25. Oil portrait for The Great Synagogue, Sydney,1992. 'Mr. Rothfield.'
26. Gum leaf designs for 'Kleenex' Family Range tissue boxes, for Kimberly -Clark (Australasia) Pty. Ltd., 1992.
27. Etching edition for Kimberly Clark (Australasia) Pty. Ltd, 1992. 'Blue Gum or Eurabbie.'
28. Four toy packaging designs, for Windmill Toys, 1993.
29. Six designs for Classic Range 'Kleenex' tissue boxes, for Kimberly Clark (Australia) Pty. Ltd., 1993.
30. Suite of watercolours based on historical research, for The Family Law Court, Parramatta, 1993.
31. Oil portrait for The Royal Motor Yacht Club, Pittwater, 1993. 'Alan Leslie.'
32. Design of mail box, including surface decoration variants, for Morris Productions Pty. Ltd., 1994. (Winner of Australian Design Award.
33. 'The Mary MacKillop Toile. 'A decorative commemorative fabric depicting the life of Sister Mary Mackillop', for the Sisters of St Joseph, 1994. A number of other items were designed for the Sisters of St Joseph for the Mary Mac Killop Museum.
34. The Pamela Griffith Collection.'A range of designs for tufted rugs', for Wilcom Pty Ltd, 1995.
35. Etching edition, for Art Incorporate Pty. Ltd., 1996. 'Iris.'
36. Painting for reproduction as cover of compact disc, for the band Galapogas Duck, 1996. 'Lonely George.'
37. A portrait of the Governor General of Australia, Sir William Deane.
Oil portrait, for St. Joseph's College, Sydney, 1996
38. Oil portrait in possession of Sir William Deane.
39. Four commissioned etching editions for Art Incorporate Pty Ltd,. 1997. The client was the Sultan of Brunei. 'Rhododendrons and Emerald Doves', Mist on the Mountainside', 'Brunei Butterflies', Blue Throated Bee-eaters and White Throated Kingfisher.' Further editions were 'Birdwing Butterflies and Green Broadbill.' The artist worked the images from drawings made in Malaysia.
40. Commissioned etching editions, for Art Incorporate Pty. Ltd., 1997. 'Green Turtle', 'Tropical Waters', 'The Reef'.
41. Compact disc cover and insert design, for the Australian Broadcasting Commission, 1997. 'Images of Australia,' The musical compositions of Don Harper.
42. Design for external wall mural, and supervision of student painting, for Presbyterian Ladies College, Croydon, 1997.
43. Two site paintings of the M2 expressway under construction, for TollAust, 1997. 'Pioneer Concrete Plant,' and 'View looking North of the M2 Expressway.'
44. Oil portrait, for Carat Framing Studio, 1999. 'Ziggy Miller.'
45. An Australian Centenary of Federation Project, 2001. A design by Pamela Griffith of a large work called 'Resonances of Inspiration Embroidery' commissioned and crafted by the Creative Embroiderers of the Penrith Valley. Unveiled by the Governor- General of Australia, His Excellency the Right Reverend Dr Peter Hollingworth AC, OBE.
46. Etching Editions, for International Artist Publishing Inc., "My Brush With History – Everett Raymond Kinstler", IBSN 1-929834-60-8
47. Oil portrait, for Mrs Karin Keighley, 2005, 'The Hon. Geoffrey Keighley OAM'
48. Oil bust, for Mrs Karin Keighley, 2006, 'Geoffrey Keighley'
49. Oil bust, for Mrs Karin Keighley, 2006, 'Karin Keighley'
50. Oil bust, for Art Equity Melbourne client, 2007, "Mr Morrow"
51. History painting for St Gregory's College, Campbelltown, 'Memorare of the Snow'. Depicts Marcellin Champagnat, founder of the Marist Brothers of the Schools, identifying the light at a farmhouse during a fierce storm in Southern France, which showed the wayforward to safety for he and his exhausted colleague, Brother Stanislaus.
52. Etching edition of 21 prints for The Department of Prime Minister and Cabinet for APEC 2007. Presented in a portfolio of 3 prints to the Heads of State of the 21 countries attending APEC 2007 in Sydney, as a gift of the Australian people.
53. Oil painting, for Mrs Rachel Fitzhardinge, 2010, 'Banksia Robur'
54. Oil portrait, for Parramatta Catholic Archdiocese, 2011, "Bishop Kevin Manning"
55. Oil still life, for Singapore client, 2011, "Bella Donna Lilies"
56. Oil still life, for Perth client, 2016, "Oriental Lilies in Chinese Vase"
57. Acrylic landscape, for Perth client, 2016, "Ducklings"
Solo Exhibitions
1978 Blackfriars Gallery, Glebe, NSW; Something Special Gallery, Bexley, NSW; Von Dorff Gallery, Ramsgate, NSW
1979 Something Special Gallery, Bexley, NSW
1980 Old Brewery Gallery, Wagga Wagga, NSW; Young Masters Gallery, Brisbane, QLD; Orly Gallery, Flushing Meadow, New York, USA; Christopher Alexander Gallery, Wentworth Falls, NSW; Roseville Gallery, Roseville, NSW
1981 Something Special Gallery, Bexley, NSW; Barry Stern Galleries, Paddington, NSW; Cobb Hall Gallery, Mittagong, NSW; Young Masters Gallery, Brisbane, QLD
1982 Barry Stern Galleries, Paddington, NSW; Something Special Gallery, Bexley, NSW; Christopher Alexander Gallery, Wentworth Falls, NSW; Gambrawatha Gallery, Albury, NSW
1983 Clareville Gallery, Clareville, NSW; Pavan Galleries, Manly, NSW; University of New South Wales, Kensington, NSW; Bridge Street Gallery, Sydney, NSW
1984 Weswall Gallery, Tamworth, NSW; Barry Stern Galleries, Paddington, NSW
1985 Breewood Gallery, Katoomba, NSW; Bridge Street Gallery, Sydney, NSW; Something Special Gallery, Bexley, NSW; Young Masters Gallery, Brisbane, QLD; Stadia Graphics Gallery, Paddington, NSW; Gates Gallery, Neutral Bay, NSW; Cooks Hill Gallery, Newcastle, NSW; William Curtis Gallery, Perth, WA
1986 QLD Brewery Gallery, Wagga Wagga, NSW; Weswall Gallery, Tamworth, NSW; Hangups Gallery, Brisbane, QLD; The Yarn Market, Molong, NSW; Gallery Image, Armidale, NSW; University of New South Wales, Kensington, NSW; Old Brewery Gallery, Wagga Wagga, NSW; Barry Stern Galleries, Paddington, NSW; Cooks Hill Gallery, Newcastle, NSW
1987 Bundaberg Art Gallery, Bundaberg, QLD; Breewood Gallery, Katoomba, NSW; Tynte Gallery, Adelaide, SA; Gates gallery, Neutral Bay, NSW; Beaver Galleries, Deakin, ACT; Christopher Alexander Gallery, Wentworth Falls, NSW
1988 Tynte Gallery, Adelaide, SA; QLD Brewery Gallery, Wagga Wagga, NSW; Graphic Art Gallery, Bondi Junction, NSW; Allyn Fisher Art Gallery, Bendigo, VIC; Barry Stern Galleries, Paddington, NSW; Mary Reiby Gallery, Enmore, NSW; Royal Australian Historical Society, Sydney, NSW
1989 Breewood Gallery, Katoomba, NSW; Barry Stern Galleries, Paddington, NSW
1990 Beaver Galleries, Deakin, ACT; Tynte Gallery, Adelaide, SA
1991 Barry Stern Galleries, Paddington, NSW; Beaver Galleries, Deakin, ACT; Mary Reiby Gallery, Enmore, NSW
1992 Barry Stern Galleries, Paddington, NSW; Anglican Retirement Village, Castle Hill, NSW; Dubbo Regional Art Gallery, Dubbo, NSW
1993 Kensington Gallery, Adelaide, SA; Barry Stern Galleries, Paddington, NSW; Mary Reiby Gallery, Enmore, NSW
1994 Bungendore Woodworks Gallery, Bungendore, NSW; Gallery Gibraltar, Bowral, NSW; Barry Stern Galleries, Paddington, NSW; Mary Reiby Gallery, Enmore, NSW
1995 Shirley Wagner Gallery, Hong Kong; Fringe Club, Hong Kong; Heineken Gallery, Hong Kong; Hong Kong Academy of Performing Arts, Hong Kong; Gallery Gibraltar, Bowral, NSW; Barry Stern Galleries, Paddington, NSW; Wall Street Exchange, Qantas Terminal, Sydney, NSW; Bungendore Woodworks Gallery, Bungendore, NSW
1996 The Private Gallery, Surry Hills, NSW
1997 North Shore Fine Arts Gallery, Neutral Bay, NSW; Riverina Gallery, Wagga Wagga, NSW; Bundaberg Regional Art Gallery, Bundaberg, QLD; Barry Stern Galleries, Paddington, NSW; Joan Sutherland Performing Arts Centre, Penrith, NSW; Wollongong City Art Gallery, Wollongong, NSW
1998 Fairfield Heritage Centre, Fairfield, NSW; Headmasters Gallery, St. Ives, NSW; Bungendore Woodworks Gallery, Bungendore, NSW; Galeria Aniela, Kangaroo Valley, NSW
1999 Solander Gallery, Yarralumla, ACT; Cooks Hill Gallery, Newcastle, NSW
2000 The Private Gallery, Surry Hills, NSW; Forest Gallery, Benandarah, NSW
2001 Qdos Gallery, Lorne, VIC; Porters Gallery, Kenthurst, NSW; Cooks Hill Gallery, Newcastle, NSW
2002 Headmasters Gallery, St. Ives, NSW; Grosvenor Galleries, Lane Cove, NSW
2003 Castlemaine Art Festival, Castlemaine, VIC; Grosvenor Galleries, Lane Cove, NSW; Bungendore Woodworks Gallery, Bungendore, NSW; Cooks Hill Gallery, Newcastle, NSW; Headmasters Gallery, St. Ives, NSW