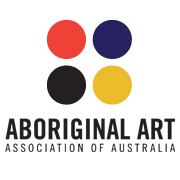 Wentja 2 Napaltjarri Biography:
share

RETURN TOP
Wentja Morgan
Napaltjarri
Biography
page 221
at
Encyclopedia of
Aboriginal Artists Dictionary of Biographies.
Wentja Morgan Napaltjarri was born in Pintupi country North-West of Walungurru, she came first to Haasts Bluff then moved to Papunya.
Wentyja is the daughter of one of the original founders of the Western Desert art movement Shorty Lungkata Tjungurrayi (1920-1987).
With her sister, Tjunkiya Napaltjarri, she took part in the Minyma Tjukurrpa Project (Women's Dreaming Project) from the Ikuntji (Haasts Bluff) and Walungurru (Kintore) Art Centres.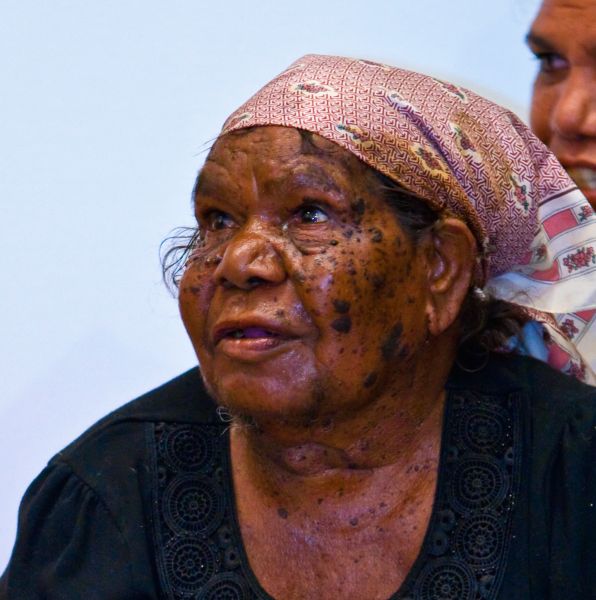 Wentja work was included in the first exhibition of paintings produced at that time. Forced to leave their lands after the arrival of Europeans, the family journeyed an incredible distance east to reach the ration depot at Haasts Bluff. While at Haasts Bluff, Wentja met her husband, Ginger Tjakamarra (1940-2008). The couple eventually moved to Papunya, where Wentja started painting as Shorty Lungkata Tjungurrayi apprentice, her father's . Her son of Makinti Napanangka is also a well-known artist.
Wentja Napaltjarri No 2 has now been painting all of her life. Her first works were collaborative, helping out the men in the family with their work. While they painted the stories, Wentja did the dotting in-fill, characteristic of the Papunya Tula artists to whom her father belonged.
Wentja now lives at Mt Liebig, she continues
her own career, painting for Watiyawanu Artists. Wentja mostly paints Blue Tongue Lizard and Water Dreaming stories, the iconography for which has been handed down to her by her father. She also paints Sandhills, Rockholes, and other landmarks associated with Water and Desert Oaks.
In contrast to her father's work, Wentja's paintings are less geometric with a softening of iconography through interlacing with intricate finely dotted patterning. This soft dotting technique is characteristic of many of the Mount Liebig women artists with whom she paints.
Aboriginal Artists Dictionary of Biographies is meticulously researched biographical dictionary 446 pages hardcover book, containing more than 1000 entries and (colour illustrations). The book includes a brief biography and relevant exhibition entries for artists who painted from the beginning of the 1970's to the first decade of the 21st century. The definitive work on the subject of desert artists.
Wentja Morgan
Napaltjarri
distinctive style paintings are
highly sought by the Australian and international art collectors.
Wentja 2
creates top-quality modern paintings and s
ome have powerful multi-dimensional nature and the sheer physical presence of much contemporary work of art that neither can be replicated by digital image as the intricate details and subtle shades of colour wash are lost in the process of internet transfer.
Wentja's early system of connecting concentric circles and dotted bands has been replaced by mesmerising fields of tonal colours. Her paintings display a key motif, in most cases a large roundel, which represents an important rockhole where her family regularly camped. Surrounding the rockhole is a charged energy field of intricate dots. While she works, Wentja sings about the rockhole, and the songs and music are incorporated into her paintings.
Wentja's work has been exhibited in leading Australian and international exhibitions, including the 2003 exhibition Masterpieces from the Western Desert, held in London. Her works are included in major collections, such as the Kerry Stokes and Thomas Vroom Collections and the National Aboriginal Art and Culture Institute in Adelaide.
2007
25th Telstra NATSIAA Australian National Art Award

2005
23rd Telstra NATSIAA Australian National Art Award
-
Museum Art Gallery Northern Territory
2002
20th Telstra NATSIAA Australian National Art Award
-
Museum Art Gallery Northern Territory
Art Gallery of South Australia, Adelaide
Homes a Court Collection, Perth
Art Gallery of Western Australia, Perth
Queensland Art Gallery, Brisbane
Museum and Art Gallery of the Northern Territory, Darwin
The Kerry Stokes Collection, Australia
National Aboriginal Art and Cultural Institute Tandanya
Flinders University Museum
Thomas Vroom Collection
Thomas Vroom Collection
Tandanya National Aboriginal Art & Cultural Institute
also private and corporate collections in Denmark, Poland, England and Germany
2000-2003 Chapel on Chapel, Melbourne
2004 Selected in the Alice Prize
2004 Cooee Gallery, Sydney
2005 Cooee gallery, Sydney
2005 Divas of the Desert, Gallery Gondwana
2006 NATSIAA Telstra Awards, Darwin
2005 Watiyawanu Artists, Japingka Gallery, Fremantle WA
2006 Bond Aboriginal Art, Adelaide SA
2006 Knud Grothe Gallery, Denmark Copenhagen
2006 Towards Black and White, Japingka Gallery, Fremantle WA
2006 Australian Aboriginal Art 2006/2007, John Gordon Gallery, NSW
2006 This is our Story – 8 selected works, Colliding Worlds Exhibition, Tandanya
2006 Luminaries of the Desert, Japingka Gallery, Fremantle WA
2007 Watiyawanu Artists of Amunturrngu, Japingka Gallery, Fremantle WA
2008 Watiyawanu Artists, Japingka Gallery, Fremantle WA
2014 Dot Code: Desert Artists, Japingka Gallery, Fremantle WA
In 2002 Wentja was a finalist in the Telstra National Aboriginal and Torres Straight Islander Art Award. Wentja has participated in exhibitions in Melbourne, Sydney and Adelaide with other Watiyawanu artists and her work has been exhibited widely across Australia.
Wentja 2 was born at Malparingya and grew up west of Kintore in the country of her father, Shorty Langkata. Wentja began painting for Papunya Tula in 1996 and quickly turn out to be one of the most essential members if the Artists Community. She lives at Mt Liebig with her husband Ginger Tjakamarra (son of well known artist Makinti Napanangka). Wentja 2 Napaltjarri has two sisters, Wentjiya One Tjunkiya (also Wentja) and Linda Syddick both prominent artists in their own right.
Wentja 2 paints sand hills, rock halls, which are landmarks associated with water, desert oaks, 'Blue Tongue Lizard and Water Dreaming' stories which has been hand down to her by her father. Unlike her father geometric work, Wentja 2 work has soft female iconography influence. She has a very strong connection with her culture and a distinctive style, she sings when painting and include songs in her painting which gives a powerful cultural experience and people say that they feel the vibration of her songs and music in her work. She creates softer iconography image in her paintings with interlacing with intricate finely doted patterning. In her paintings, Wentja 2 depicts the colour of the Australian Central Desert country. She is a highly talented and accomplished artist with a very individual creative flair and a real consistency in her work, and style.