custom-made unique bronze sculptures for a public place, business, office or home
What is your budget?
A small, custom-made bronze sculpture (30cm) may cost between $6,000 and $8,000.
A life-size sculpture of (170 cm) bronze-figure may vary between $60,000 and $100,000.
Larger custom-made bronze sculptures demand much higher prices, require more work, longer time and a greater volume of materials.
The total cost depends on associated foundry process, surface texture, maquette (if required) and additional elements like: a soldier with rifle, backpack, straps, a stand etc., add to the cost, plus cost of installation.
quote
To provide an approximate quote, we require measurements in all dimensions; height, width, depth, direction/movement of the piece as well as other factors to be able to calculate the sculpture cost.
Once you decide the bronze size and the design concept is chosen then an approximate quote for the sculpture is provided.
You be able to review drawings, to help the artist put the final touches on the piece. Once you approved the drawings the final quote is provided.
For large life-sized and larger sculptures, a clay maquette of the approved design can be sculpted (at your cost) to finalize cost calculation of the commissioned bronze before the actual size sculpture is created.
DEPOSIT
After accepting the quote, a non-returnable down payment of 1/2 is required to begin work on the sculpture.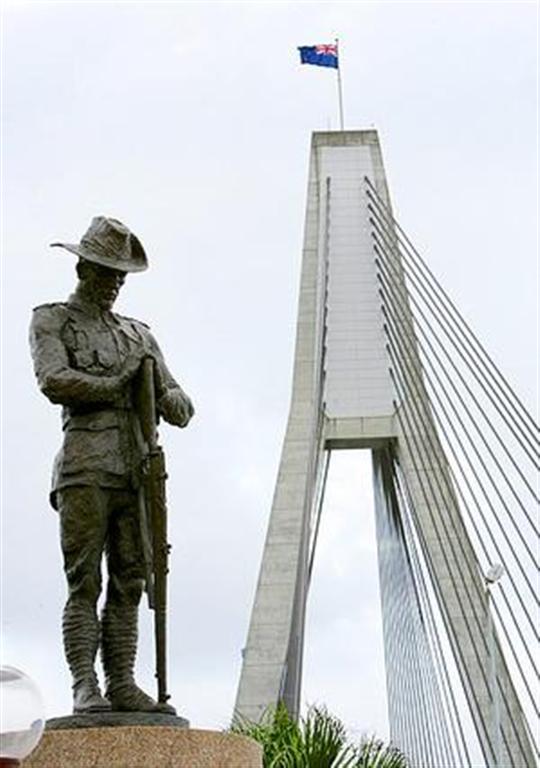 Commissioning process
Completing a unique custom-made bronze sculpture take several months, from 6 to 9 months for life size statues and a year or more for a larger than life pieces.
PAYMENT
Once the sculpture is complete the final 1/2 payment of the remaining amount of the agreed price.
Installation
If the sculpture needs to be installed, necessary professional installers will be employed and the artist will oversee the installation process. The cost of the installation is calculated separately and can be added to the initial quote.
Please enquire
Right: Alan Somerville ANZAC Bridge 4.5 meters commission
All prices subject to change without notice.