Biography: Tjawina Porter Nampitjinpa
share

RETURN TOP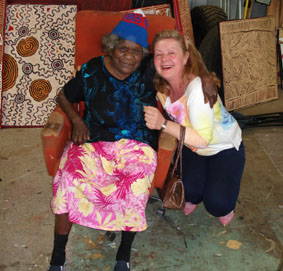 Tjawina Porter Nampitjinpa was born circa 1950 at Tjukurrla, North of Docker River, Western Australia.
Tjawina Porter's sisters: Nyurapayia Nampitjinpa aka Mrs. Bennett (1935-2013) one of the most important Australian artist and also Esther Giles Nampitjinpa a well-known Australian artist.
Tjawina Porter Nampitjinpa paintings represented in collection around the world, reflect the knowledge and the system of meanings of the lives of her cultural group. Tjawina Porter work is rich in representation of graphic images of her family stories.
Tjawina Porter identification, description, and the interpretation of the images content are personal subjective and topographical. She uses own particular depiction of a subject in terms of the content of the image. Tjawina topics are depicted in the particular compositions and details, and other elements that are distinct from her artistic style.
Tjawina's paintings are represented in private and corporate collections in Australia and internationally.
Tjawina Porter paintings often depict the three main water holes associated with "Tjawina's Dreamings". The first is "Tjukurrla" situated on the Northern Territory / Western Australia borders. The remaining two are "Tjalili" and "Punkilpirri". The lines that connect these sites are ancestral pathways or son lines. These were established as an indicator for the passage from one site to the next during ceremony. The patterns to the outer edges of the painting represent the surrounding topography consisting of sand dunes and rock escarpments. Tjawina also depicts women's ceremony referred to as "inma". The "U" shapes represent the women as they conduct initiation ceremony. Body painting is an important part of tribal practices and this is represented by series of short parallel lines. "Tjawina's homeland of Tjukurrla" is situated on the Northern Territory / Western Australia border and remains as an important site for both men's and women's ceremonies. Tjawina paints her family dreaming, the sites of Yumari, Punkilpirri, Tjukurla and Tjalili. These sites are important for ceremonies and as sources for water and important bush foods.
Tjawina lived a tribal life until moving to the then newly established government settlement of Papunya after her younger brother died. Now widowed, she has returned to live with her family members on traditional land.
Initially known for her skill as a traditional basket weaver, Tjawina has developed into a prominent painter. Her works are rich in ethnographic iconography and image the stories passed down by her mother and her father. The sites of Yumari, Punkilpirri, Tjukurla and Tjalili are often portrayed, using a thickly layered style of predominantly white, cream, brown and pastel colours. These sites are significant as they are the places for ceremonies and the areas to source water and vital bush foods.
COLLECTIONS: Tjawina Porter Nampitjinpa work is represented by private and corporate collection around the world.
Language: Ngaatjatjarra and Pintupi/Luritja.
Source & FURTHER REFERENCES: "Aboriginal Artists of the Western Desert - A Biographical Dictionary" by Vivien Johnson, published by Craftsman House 1994,"The Oxford Companion to Aboriginal Art and Culture" edited by Sylvia Kleinert and Margo Neale published by OUP 2000,"Australian Aboriginal Artist Encyclopedia" – dictionary of biographies" Kreczmanski, Janusz B & Birnberg, Margo (eds.): Aboriginal Artists: Dictionary of Biographies: Central Desert, Western Desert & Kimberley Region (JB Publishing Australia, Marleston, 2004). Brody, A. 1989 Utopia women's Paintings: the First Works on Canvas, A summer Project, 1988-89 exhib. Cat. Heytesbury Holdings, Perth Brody, A. 1990 Utopia, a picture Story, 88 Silk Batiks from the Robert Homes a Court Gallery and gallery Collection, Heytesbury Holdings LTD Perth NATSIVAD database; Latz, P. 1995, Bushfires & Bushtucker, IAD Press, Alice Springs.
share on