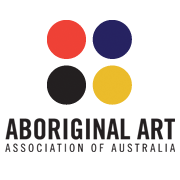 Jimmy Robertson Jampijinpa Biography
RETURN TOP
Jimmy Robertson Jampijinpa (1944-2002) is an important Australian artist
and
one of the best known painters in Lajamanu.
Jimmy Robertson
Jampijinpa
work
is
represented
in some of the most prestigious public collections Worldwide
including
Musée d'Orsay Paris
,
Baudoin Lebon Gallery, Paris,
Bencia Open Studios, California,
Museum Gottingen, Germany,
Art Gallery of Western Australia, Homes a Court, Anthropology Art Museum Perth, Museum & Art Gallery Northern Territory, Gallery of Victoria, Victorian Art Centre, National Gallery of Australia, Art Gallery of South Australia, Art Bank, The Kelton Foundation, Santa Monica USA, Warnayaka Art Centre UNESCO and many more.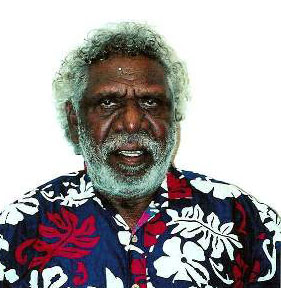 Jimmy Robertson Jampijinpa biography is included (page 78) in 'Aboriginal artists dictionary of biographies: Western Desert, Central Desert and Kimberley Region' authors Margo Birnberg and Janusz B. Kreczmanski.
Jimmy Robertson
Jampijinpa
has exhibited his paintings to Sydney, Perth and Adelaide, the USA and Paris also
his dances, songs
. He is remembered by some in Paris for taking a trunk full of boomerangs and setting up a roadside stall on one of the main boulevards - an amazing and colourful individual, who attended the very first exhibition of the Lajamanu artists at the Gallery Gabrielle Pizzi in Melbourne in 1987. Jimmy lived in Lajamanu with two wives and nine children, he was full time painting as well as teaching dancing at Lajamanu Boys School.
Baudoin Lebon Gallery, Paris
Bencia Open Studios, California
Museum Gottingen, Germany
Art Gallery of Western Australia (Perth)
Homes a Court Gallery and gallery Collection (Perth)
Anthropology Art Museum, Perth, Australia
Museum & Art Gallery Northern Territory (Darwin, Australia)
Gallery of Victoria (Melbourne, Australia)
Victorian Art Centre Melbourne
National Gallery of Australia (Canberra)
Art Gallery of South Australia (Adelaide)
The Kelton Foundation, Santa Monica, USA
Warnayaka Art Centre Jimmy Robertson Jampijinpa: www.anu.edu.au/linguistics/nash/aust/wlp/Yapa_leaflet(E2).pdf UNESCO publishing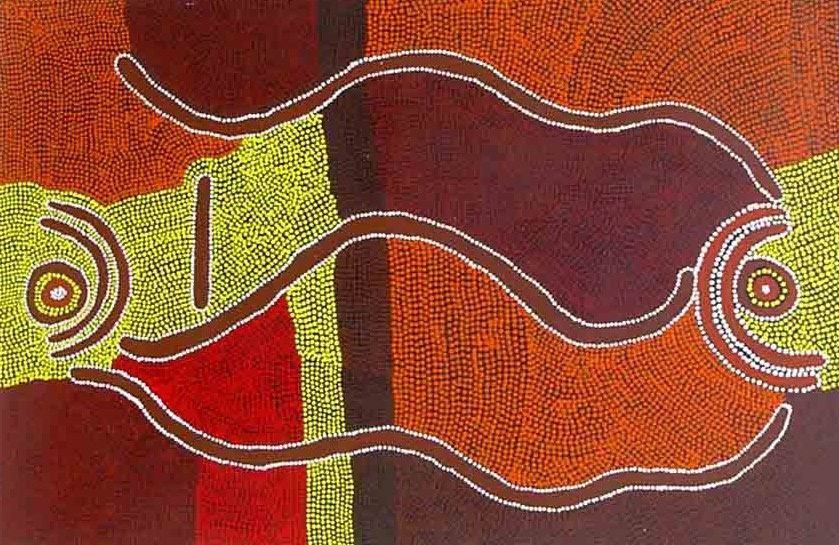 SELECTED
MAJOR
Exhibitions
1983 - Museum of Modern Art, Paris, D'un autre continent: I'Australie le reve et le reel, ARC, France
1987 - Australian Made, Hogarth Galleries, Sydney, NSW
1988 - Recent paintings from Lajamanu, Gallery Gabrielle Pizzi, Melbourne, Victoria
1988 - The Fifth National Aboriginal Art Award Exhibition, Museum and Art Gallery of the NT, Darwin
1989 - Mythscapes, Aboriginal Art of the Desert, National Gallery of Victoria
1990 - Lajamanu Dreamings, Technical and Further Education College, Darwin, NT
1990 - The Seventh National Aboriginal Art Award Exhibition, Museum and Art Gallery of the NT, Darwin
1991 - Lajamanu Dreamings 2, Technical and Further Education College, Darwin, NT
1991 - Aboriginal Art, Australian Embassy, Washington, USA.
1991 - Ngurra Mala, les lieux du Reve, Ecole des beaux-arts, Grenoble, France
1991 - Yapa, Peintres Aborigenes de Balgo et Lajamanu, Baudoin Lebon Gallery, Paris
1991 - The Eighth National Aboriginal Art Award Exhibition, Museum and Art Gallery of the NT, Darwin
1993 - Tjukurrpa, Desert Dreamings, Aboriginal Art from Central Australia (1971 -1993), Art Gallery of Western Australia, Perth WA
1993, The Tenth National Aboriginal Art Award Exhibition, Museum and Art Gallery of the NT, Darwin
1994 - Yapakurlangu Wirrkardu, Batchelor College, Tennant Creek, NT
1996- Bencia Open Studios, California
1996 - Kormilda College
1996 - The Rainbow Serpent, Sydney, N.S.W. 1997 - March Indigenart, Perth
1997- "Innenseitte" Gottingen Germany