G
aleria Aniela
the world's local
fine art gallery
Works of art live for generation, bringing new dreams, new ways of seeing and experiencing our world. Be part of this magic world of the finest of art that thrills your heart, mind and soul. Established in 1994, Galeria Aniela is the world's local fine art gallery selling ethically sourced, high-quality works of art to a worldwide buyer base. We won the trust of some of the most important Australian artists. Galeria Aniela recognizes the importance of the buyer confidence in purchasing an authentic work of art. Galeria Aniela offers you only the finest of art, a stunning selection of paintings and sculpture of impeccable quality and provenance. We combine the knowledge of fine art and financial expertise. Our people focused approach ensures an enjoyable and a rewarding experience.
Artists Australian art Australian Indigenous art Investment art Exhibitions Resources Videos
William Merric
Boyd
(1888-1959)
artist, potter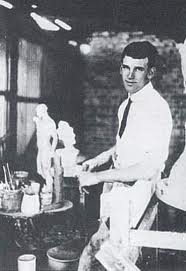 William Merric Boyd (1888-1959) is son of Emma Minnie à Beckett (1858-1936) and Arthur Merric Boyd (1862-1940).
William Merric Boyd (1888-1959) potter, married Doris Gough (1889-1960) painter and, they had five children.
1.
Lucy Evelyn Gough Boyd
(1916-2009)
ceramist
2.
Arthur Merric Bloomfield Boyd
(1920-1999) painter,
known as
Arthur Boyd
(1920-1999)
3.
Guy Martin à Beckett Boyd
(1923-1988)
sculptor, known as
Guy Boyd
(1923-1888)
4.
David Fielding Gough Boyd
(1924-2011)
painter, known as
David Boyd (1924--2011)
5. Mary Elizabeth Boyd (1926-) painter (now Lady Nolan) earlier married John Perceval (1923-2000) they had four children including Tessa Perceval and Celia Perceval
William Merric, was born on 24 June 1888 at St Kilda, and attended Haileybury College and Dookie Agricultural College. Unsuccessful as a farmer at Yarra Glen, at one time he considered entering the Church of England ministry; he was the model for 'a difficult young man' in Martin Boyd's novel under that title. However, in 1908 at Archibald McNair's Burnley Pottery, he successfully threw his first pot. His parents helped to provide a workshop for him at Murrumbeena and pottery kilns were established there in 1911 (destroyed by fire in 1926).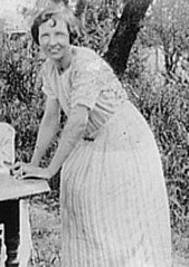 Merric studied at the Melbourne National Gallery School under
L.Bernard Hall
and McCubbin. He held his first exhibition of stoneware in Melbourne in 1912 and a second exhibition soon afterwards, and was employed by Hans Fyansch of the Australian Porcelain Works, Yarraville.
On 12 October 1915 he married Doris Lucy Eleanor Bloomfield Gough, a fellow student and potter. In May 1917 he joined the Australian Flying Corps but was discharged later in England. Before his return to Australia in September 1919 he undertook training in pottery technique at Wedgwood's, Stoke-on-Trent.
Merric produced his best works in the 1920s and 1930s. These were mostly pieces for domestic use, often decorated by Doris, and some pottery sculptures. He believed that 'the first impulse of the maker of hand-pottery is to obtain pleasure in making and decorating an article, and making that pleasure intelligible 'the use of our own fauna and flora is of the first importance'. In spite of his aversion to creating art that would sell well, Merric Boyd worked hard to provide for his growing family.
In the 1930s Merric was employed at the Australian Porcelain Co. Pty Ltd, Yarraville, in the manufacture of Cruffel art porcelain, he earned £4 a week. Doris worked there also on a half-time basis. In his later years Merric became something of a recluse. He had adopted his wife's faith in Christian Science and from the 1930s read little beyond its teachings and the Bible.
Merric Boyd
had considerable influence on younger artists, 682 of
Merric Boyd
drawings were collected and published by Christopher Tadgell as Merric Boyd Drawings (London, 1975).
Merric Boyd
portrait by his son-in-law
John Perceval
(1923-2000) is one of several.
Subject to epileptic fits, Merric died at Murrumbeena on 9 September 1959. Doris died on 13 June 1960.
Merric and Doris Boyd were survived by their five children, all noted artists:
Lucy (1916-2009), Arthur Boyd (1920-1999),
Guy Boyd
(1923-1888),
David Boyd (1924--2011) and
Mary
(now Lady Nolan) earlier married
John Perceval
(
1923-2000)
Mary and John Perceval had four children including Tessa Perceval and Celia Perceval
Galeria Aniela
sells top-quality fine art, only of impeccable provenance, please
contact us
visit the gallery, Email or phone +612 4465 1494
William Merric
Boyd
(1888-1959)
Auction Results

U
nder the freedom of information we compiled relevant facts for you to enjoy
.
We believe in sharing the knowledge and express deep gratitude to the websites below in particular, and also to all Australian National galleries, Australian and International Press for the information they share with us, without them our research would not be available. We hope you will enjoy the free services.
| | |
| --- | --- |
| Sold for | Details |
| $14,950 | William Merric Boyd (1888-1959), Jug with Kookaburra Modelled in Relief 1933, Glazed earthenware, inscribed, 'Merric Boyd 1933, colour by Doris Boyd' on base, 23.5 cm high, Est: $3,000-5,000, Sotheby's Australia, Fine Australian and European Paintings, Melbourne, 19/08/1996, Lot No. 323 |
| $9,900 | William Merric Boyd (1888-1959), Large Vase, Earthenware, with modelled and painted decoration of a tree in green and blue glaze, inscribed on base Merric Boyd 1925, sticker on base, 82, 27.5 cm high, Est: $2,000-3,000, Sotheby's Australia, Fine Australian Paintings, Books and Ceramics, Melbourne, 26/07/1987, Lot No. 288 |
| $8,625 | William Merric Boyd (1888-1959), Jug 1925, Modelled and glazed earthenware, signed and dated on base, height: 22 cm, Est: $1,000-1,800, Sotheby's Australia, Fine Australian Paintings, Sydney, 04/12/1994, Lot No. 443 |
| $6,600 | William Merric Boyd (1888-1959), Jug 1926, with Modelled Decoration of a Tree as Handle, with Green Glaze, Earthenware, inscribed on base Merric Boyd 1926, Z sticker on base, 80, 25 cm high, Est: $1,200-1,800, Sotheby's Australia, Fine Australian Paintings, Books and Ceramics, Melbourne, 26/07/1987, Lot No. 291 |
| $5,462 | William Merric Boyd (1888-1959), Portrait of Arthur Boyd, Sculptured glazed ceramic, signed and dated 1923 on the base and upper edge, height: 12 cm, Est: $4,000-6,000, Sotheby's Australia, Fine Australian and European Paintings, Sydney, 16/08/1999, Lot No. 185 |
For more information visit http://www.aasd.com.au/

Galeria Aniela
sells top-quality fine art, only of impeccable provenance, please
contact us
visit the gallery, Email or phone +612 4465 1494