G
aleria Aniela
the world's local fine art gallery
We are passionate about fine art. Founded in 1994 Galeria Aniela won the trust of some of the most important Australian Artists from post WWII until today. We challenged the status quo from its inception offering top-quality fine art outside the metropolitan area for public display and acquisition, built a reputation in Australia and the wide World.
Recognizing the importance of the buyer confidence in securing authentic art, we provide an opportunity to purchase museum-quality original artworks of impeccable provenance from significant artists Arthur Boyd, Jamie Boyd, Lenore Boyd, Charles Blackman, Garry Shead, John Olsen, John Perceval, Lily Kelly Napangardi, Minnie Pwerle, Nancy Nunguarrayi, Ningura Napurrula, Nyurapayia Nampitjinpa aka Mrs. Bennett and many more.
Thrilled we coup the front page of Sydney Morning Herald, ABC TV Australian National News, ABC TV Sunday Afternoon, the ABC TV Australian National News |John Perceval, SBS TV Charles Blackman see Videos q Australian art q Art-investment q
If you love top-quality
ART
of impeccable
provenance
the Art you want is at Galeria Aniela
PAYMENT and Delivery
Galeria Aniela handles the primary art market when artworks come to the market for the first time at gallery or exhibition from the artists or the artists Trusts.
When you purchase ART from us you support the artists each purchase helps artists to make a living with their creations. Galeria Aniela
immediately pays the artist
s
. P
urchases are excluded from exchange, returns and cancellation
.
Payments Bank transfer payments
Bank transfer payments in a secure and safe environment
Bank:

Westpac

Nowra

NSW 2541

Address:

132 Junction Street,

Nowra

NSW 2541

Australia

Branch:

Nowra

NSW 2541

BSB number:
032691
Account number:

138530

SWIFT code:

WPACAU2S

Account name:

Galeria Aniela
Testimonials
-
Galeria Aniela aim to be a place of experience and inspiration
The purchaser is entirely liable for the cost of the shipment and transit insurance
against the loss or damage.
We are happy to assist with the arrangements of the shipment
but take no responsibility whatsoever for the cost
.
Shipping
worldwide
usually dispatched within 24 hours delivery in 3-5 business days
or Pick Up from Galeria Aniela
.
Contact gallery for assistance in shipping arrangements
.
We assist in
organizing Quotes
from the professional couriers
specializing in shipping works of fine art - see below:
VANLOADS Myles Art Transport
Professional courier specialize in transporting works of fine art Australia wide
Myles Herbert
T: 0488 22 22 98
E: vanloads@hotmail.com
Pack & Send
Professional courier and freight deliver items Australia and internationally
Mel and Russell Forbes
T: +61 2 4229 5888 E: wollongong@packsend.com.au
International Art Services (IAS )
IAS is a full art handling service, transportation, installation and storage service, a national fleet of art transport vehicles purely for the transport of art and museum items. Staffed by experts who are skilled and passionate about art, the only art transport logistics solution to be considered by serious about the safe and secure movement of irreplaceable art.
Woollahra Art Removals
Professional courier delivers items in Australia
Paul Cartwright
E: pcartwright@woollahraart.com.au
Sydney T: + 612 9669 2688
Melbourne T: + 613 9328 2186
Brisbane T: +617 3891 2334
Australia domestic shipping
Artwork Transport Australia's art transportation providers National coverage
Galeria Aniela aim to be a place of experience and inspiration Testimonials
Testimonials
Tejinder Sekhon
Buying art is never an easy task - you wonder about provenance, quality, damage etc - but with Aniela it's such an easy, risk-free and pleasant experience. I've bought many pieces from Aniela over the years Arthur Boyd, David Boyd, Jamie Boyd, John Perceval, Charles Blackman etc just via the internet and emails as I was overseas...only ever seeing internet pictures. Such is my trust in Aniela. She has a well-earned reputation for being a very honest and helpful art dealer. Aniela is ALWAYS my first port-of-call when I am looking for an Australian piece and I strongly recommend that strategy to you.
Ulf Egestrand
Just love Galeria Aniela. The gallery has such a range of beautiful paintings and sculptures. It made the trip to Kangaroo Value really worthwhile and was lucky to purchase several stunning original paintings Arthur Boyd, David Boyd, John Perceval and Charles Blackman. Thank You. 23 Oct 2015
Robyn Berkeley
We have worked with Aniela for over 20 years and found her to be honourable and enthusiastic in the arts industry. She has a beautiful gallery near Kangaroo Valley in the Southern Highlands of NSW and its worth a visit. Aniela is highly regarded by the Boyd family. Top Qualities: Personable, Expert, High Integrity.
This recommendation of Aniela Kos work is submitted to share with other LinkedIn users.
Hon. Bob Hawke, the former Prime Minister of Australia VIDEO testimonial or click on the picture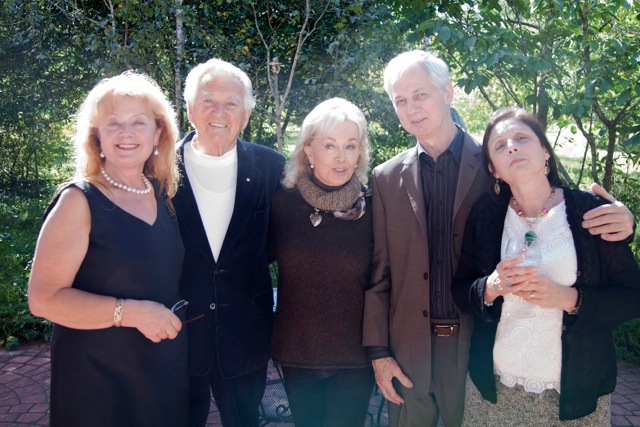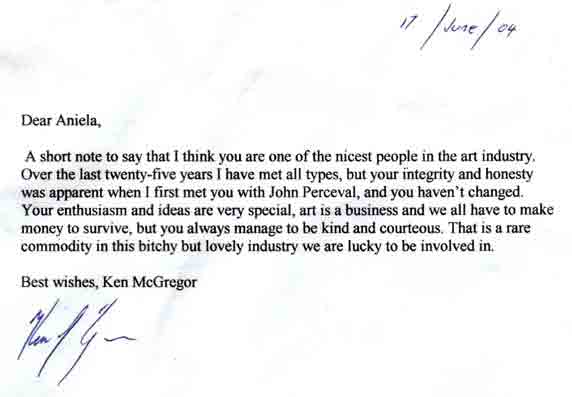 5 Stars! Galeria Aniela provides a winning combination of top quality art, beautiful surroundings and friendly expertise.
Stela Razzaque
My husband and I stumbled across Galeria Aniela and were very impressed by the stunning collection of artwork, but also the lovely Aniela who was so friendly and charming. It was wonderful to learn about the incredibly talented artists and enjoy this beautiful, tranquil setting. What a delight! I can't wait to visit again, and would highly recommend this gallery to anyone visiting the region.
We aim to be a place of experience and inspiration


RETURN TOP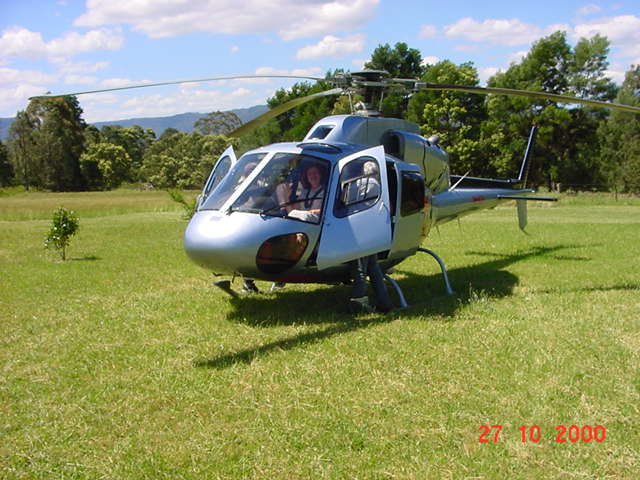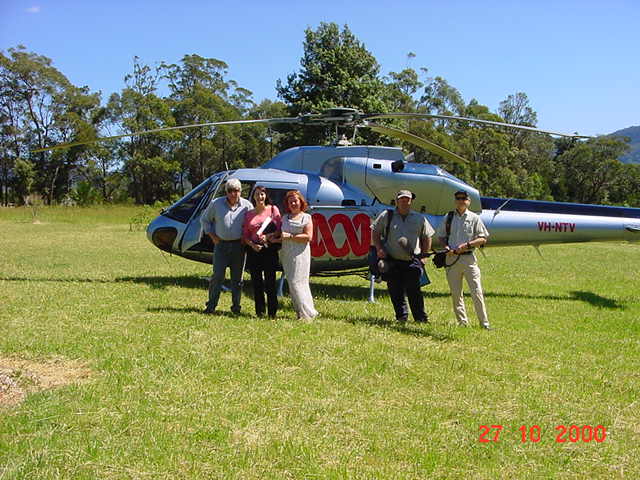 share


RETURN TOP
Galeria Aniela offers an opportunity to purchase original museum-quality art of impeccable provenance
Galeria Aniela aim to be a place of experience and inspiration, committed to significant dynamic artists such as Charles Blackman, Arthur Boyd, Jamie Boyd, John Perceval, John Olsen, Robin Holliday, Brett Whiteley, Garry Shead, Deborah Halpern, Nyurapayia Nampitjinpa aka Mrs. Bennett, Lily Kelly Napangardi, Ningura Napurrula, Gloria Petyarre, Nancy Nunguarrayi and more.
We recognize the importance of the buyer confidence in purchasing genuine works of art. Combining the knowledge of fine art and financial expertise in the World Art Market and a wide network of resources, we offer an opportunity to purchase original museum-quality artworks of impeccable provenance. Whether you are a first time buyer, an enthusiastic collector or an astute investor, our people focused approach ensures an enjoyable and rewarding experience.
We meet the terms of prompt professional communication by internet and telephone. Shipping worldwide usually dispatched within 24 hours, delivery in 3-5 business days or Pick Up from Galeria Aniela.