I had a dream, to create an fine art gallery outside the metropolitan area, exhibiting high-quality artworks for public display and acquisition.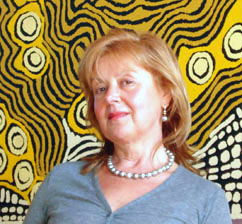 In 1994, I took the plunge to build an architecturally designed art gallery, crafted from cool mud-bricks and warm timbers, set against the beautiful backdrop of Kangaroo Valley escarpment.
With hard work and sacrifices, attentive to opportunities and taking great financial risks, at times terrifying, I pioneered Galeria Aniela, the first commercial art gallery in the country area, exhibiting museum-quality paintings and bronze sculptures by some of the important Australian artists.
Working by myself on 8 acres of Australian clear paddock, I created gallery gardens Sculpture Park. Many say it's a work of art in itself.
A pioneer from its inception, Galeria Aniela won the trust of some of the most important Australian artists from post WWII until today, such as Arthur BOYD, Jamie BOYD, David Boyd, Lenore Boyd, Charles BLACKMAN, John PERCEVAL, Celia Perceval, Tessa Perceval, Pamela Griffith believe in my dream.
I am deeply thankful to the artists and customers who have helped to shape Galeria Aniela to be proud of.
I have been privileged to experience rewards and successes. Galeria Aniela aim to be a place of experience and inspiration providing for the public display and acquisition museum-quality art of impeccable provenance.
I offer friendly professional service with high standards, detrimental to deliver the successful high-quality product.
One of the last bastions where serious connoisseurship meets commercialism, Galeria Aniela built a reputation in Australia and the wide world.
The 1997 Best of Boyd Exhibition coup The Sydney Morning Herald front page and several most respected Australian media such as the ABC TV National News Arthur BOYD, ABC TV Sunday Afternoon, SBS TV Charles Blackman Retrospective, Galeria Aniela built a reputation in Australia and the wide world.
In 2000 John Perceval Retrospective exhibition was filmed by the ABC TV Australian National News.
The vision of Galeria Aniela is to increase the awareness of Artist's cultural contribution in particular Aboriginal artists.
A World apart and away from the hectic city, Galeria Aniela provides highly professional services of the top commercial city gallery.